The Most Popular Website Builders
Mali Gorovoy May 16, 2022
Want to know which website builder is the most popular? Look no further! We have compiled a list of the best builders and broken down what makes them unique.
---
A well-built website gives any business a competitive advantage.
We have compiled a list of the best, most-popular website builders today to help highlight the unique selling points of your small business so that you can stand out from competitors.
Use one of these builders to grow your market share & increase your profit margins.
If you are looking for an all-inclusive builder:
If you are not tech-savvy:
If you specifically want an eCommerce site:
---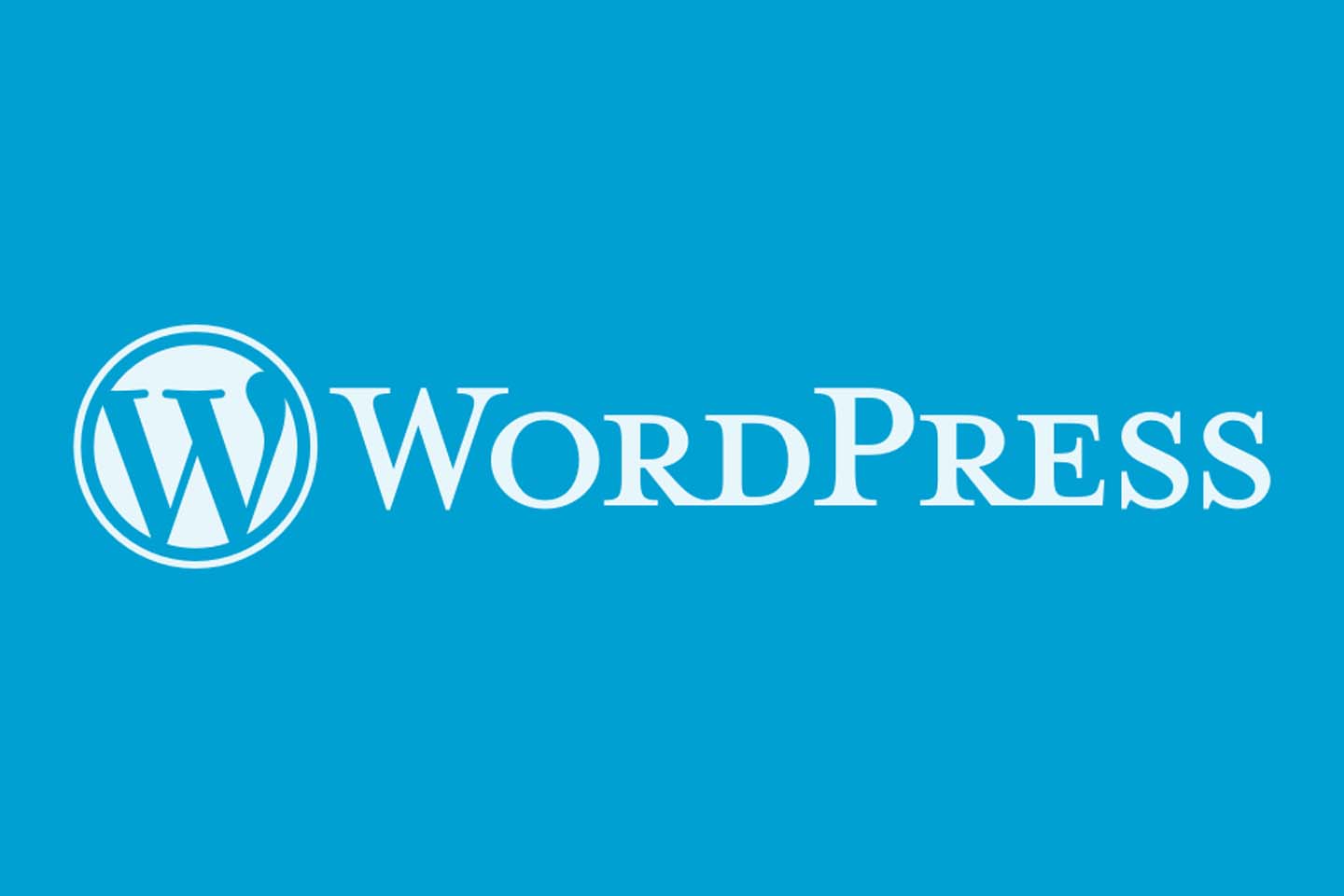 Pros:
WordPress.org is the most commonly used website building platform with over 35% of all websites on the internet built through WordPress. Its popularity is largely due to the fact that you have total control over all aspects of your website & it is very user-friendly. You can use website to create whatever you want – from eCommerce sites to personal blogs. There are tons of pre-built themes and 55,000 free plugins at your disposal to customize your site. There are SEO plugins that can help guarantee your website will stand out when searched for. Wordpress is an open source website builder, so you can hire a developer to help you build out more complicated functions. Other builders that are not open source do not have this resource.
Cons:
Having total control over your website also means that you will have to manage it on your own. Managing entails keeping up with WordPress updates, plugin updates, and creating your own backups for your site. You will have to learn the WordPress system in order to do this, which can be difficult for some but usually is not a big obstacle.
Pricing:
Wordpress itself is a free builder, but you have to pay for your own domain name and the web hosting that keeps your website live. This comes out to $14.99/year or $7.99/month.
---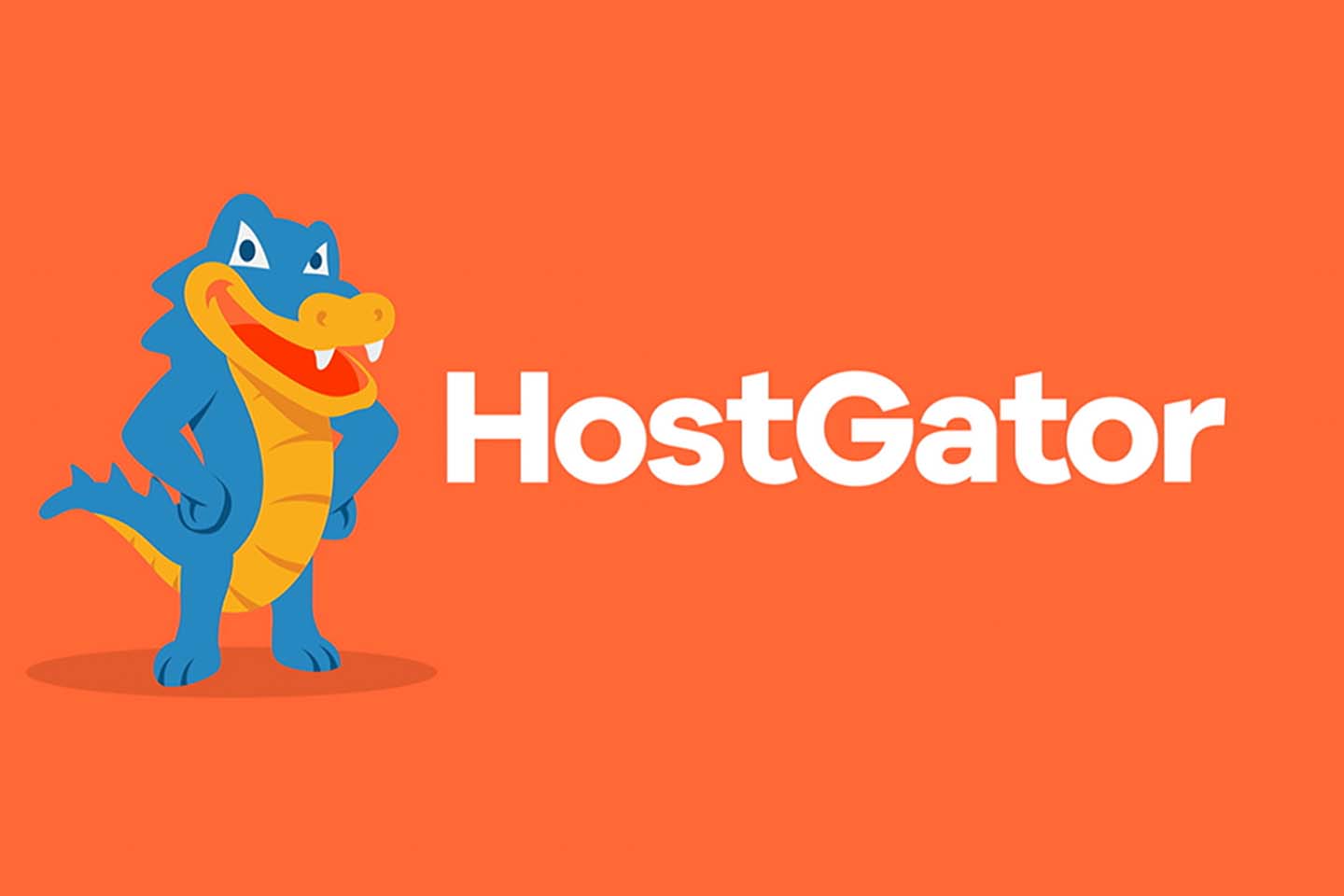 Pros:
Gator can also be used to build any type of website. Unlike WordPress, Gator is a fully hosted platform, so you do not have to manage your website yourself & you get a free domain name with your package. Gator also comes with plenty of templates that are easily customizable. On Gator you can drag and drop objects to where you want them & anything can be edited by clicking and pointing on the page. This makes Gator incredibly easy to use. There is also a library of stock images that are available for you to use.
Cons:
There is no free version of Gator nor is there a free trial for any of the packages.
Pricing:
Starting at $3.84/month. Premium - $5.99/month. eCommerce - $9.22/month.
---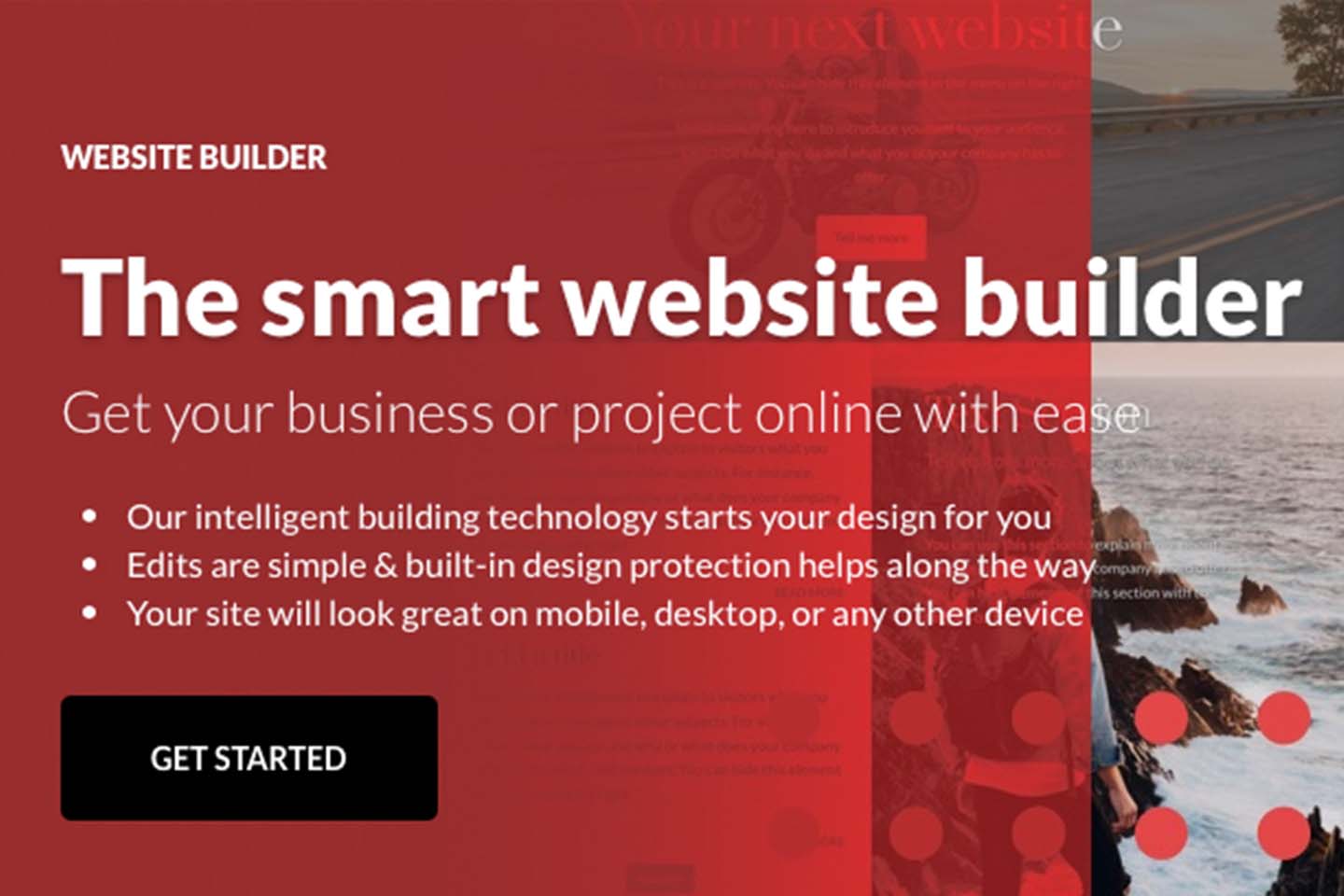 Pros:
Like Gator, Domain.com also has the drag & drop function for customizing. They also provide pre-made templates that you can use. The best part about Domain.com's templates are that they are made to be viewable on all devices. Your website will look great no matter what device your viewers are viewing it on. There is also an eCommerce option that helps you with management of inventory, tax, coupons, and discounts. If you have any questions, Domain.com provides live chat and telephone support.
Cons:
Like Gator, there is no free version nor free trial; however, they offer a money-back guarantee if you are not happy with your website. Websites built on Domain.com will be hard to move to another platform if that is something you wish to do later on. Also, in order to have unlimited pages for your website, you need to get at least the business plan or else you only get 6 pages.
Pricing:
Starter plan - $1.99/month. Business plan - $6.99/month. eCommerce plan - $12.99/month.
---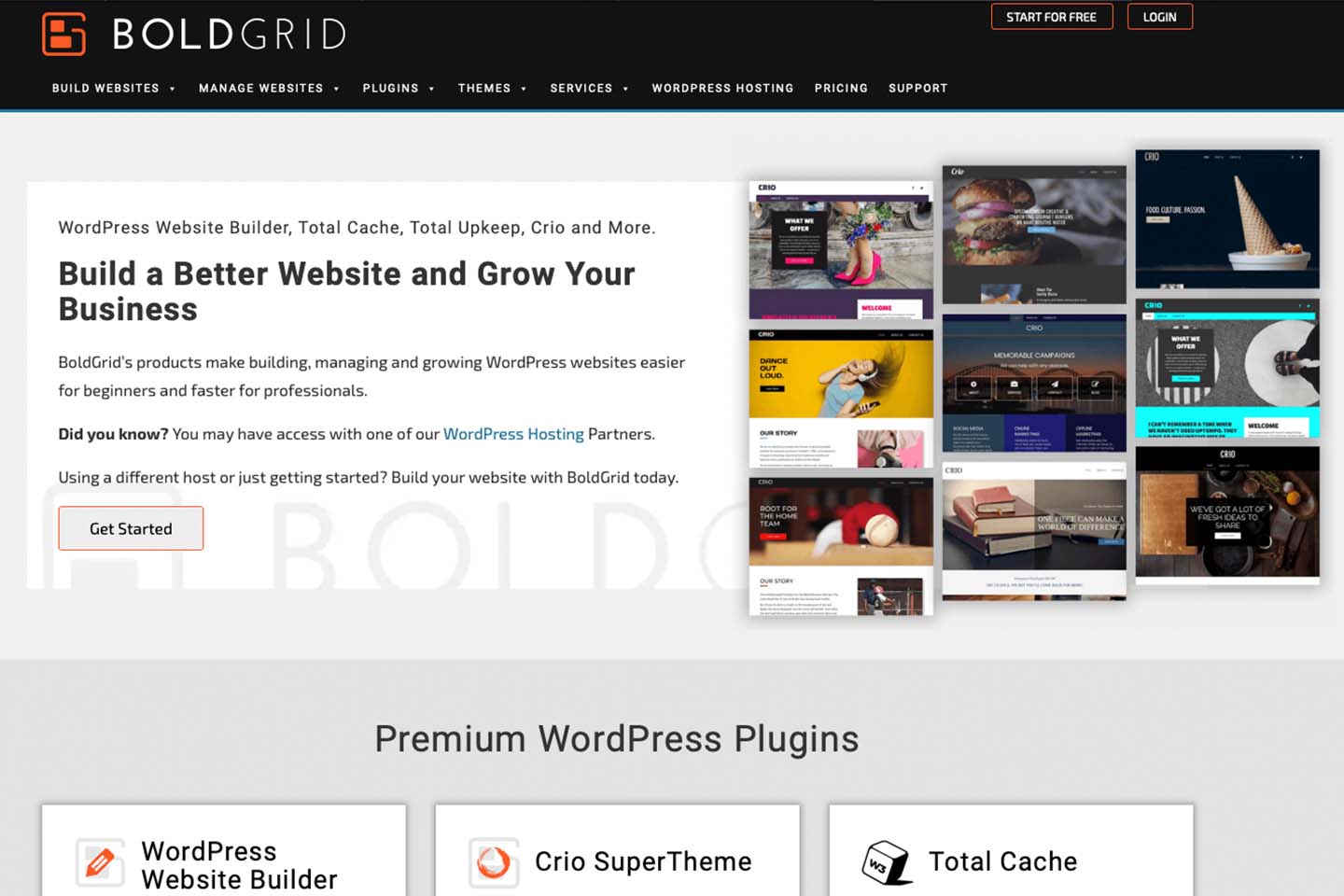 Pros:
BoldGrid is built on top of WordPress & can be used as its own individual platform or as a WordPress plugin. There is a plethora of themes that are easily editing through a drag & drop function. There is a WYSIWYG page editor that allows you to see everything that is being edited & there are GridBlocks to help you build your own themes. BoldGrid also offers a staging site that allows you to see your website & test all the functionality before you go live.
Cons:
Since BoldGrid is built on WordPress, you must have a WordPress.org site to use BoldGrid. This means that there is some self-hosting involved. However, BoldGrid does backups, so that is one less thing you have to worry about.
Pricing:
Plugin free to download, so long as you have a WordPress hosting account & domain name.
---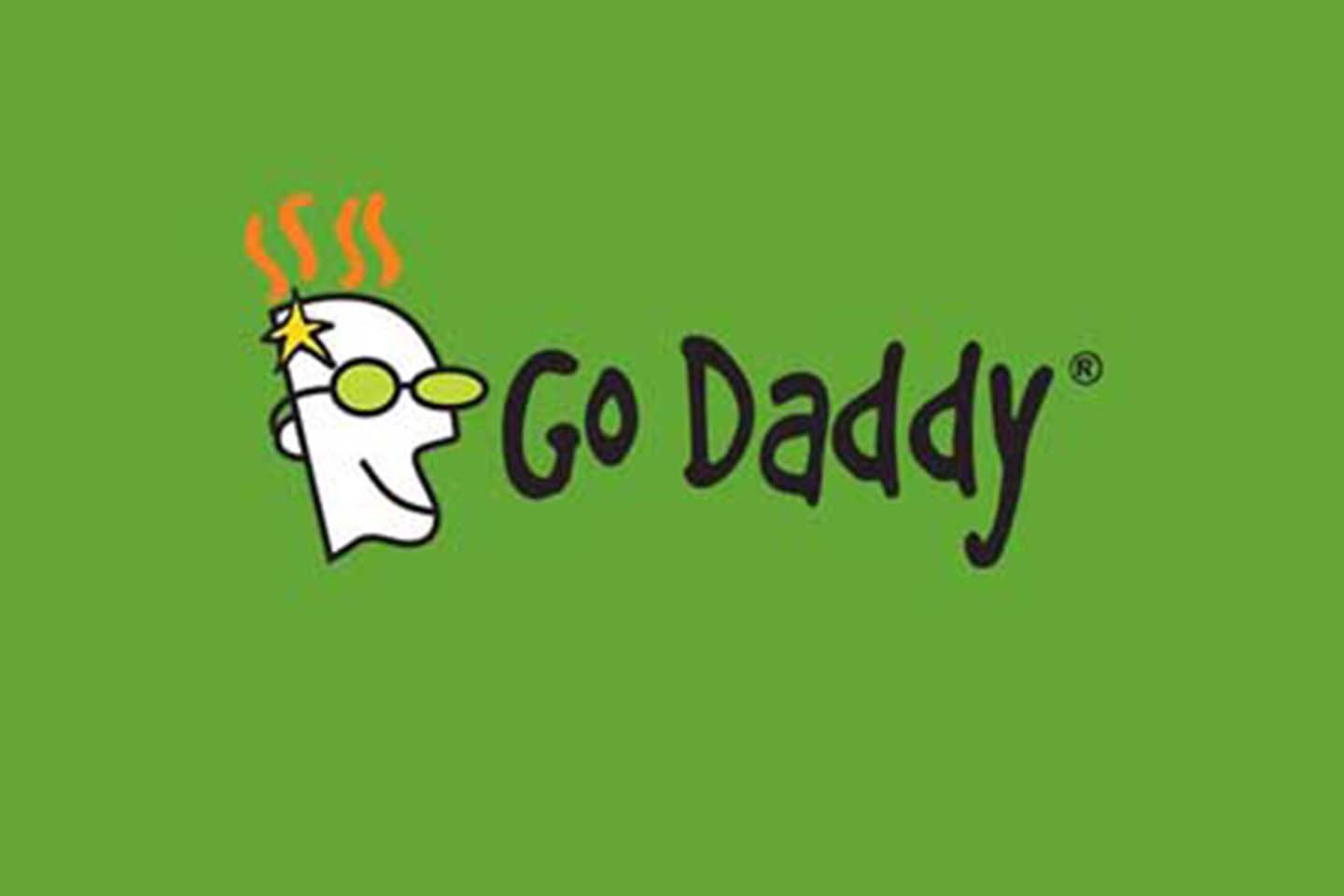 Pros:
A large, global domain name & hosting service provider. GoDaddy is easy to use and comes with themes that can be implemented and edited. GoDaddy provides access to Getty Images that can be used on your site. GoDaddy's website builder can also be used on mobile devices and tablets, so that you can build on the go.
Cons:
There is not as many designs and features offered in comparison to other builders.
Pricing:
Personal - $5.99/month. Business - $9.99/month. Business Plus - $14.99/month.
---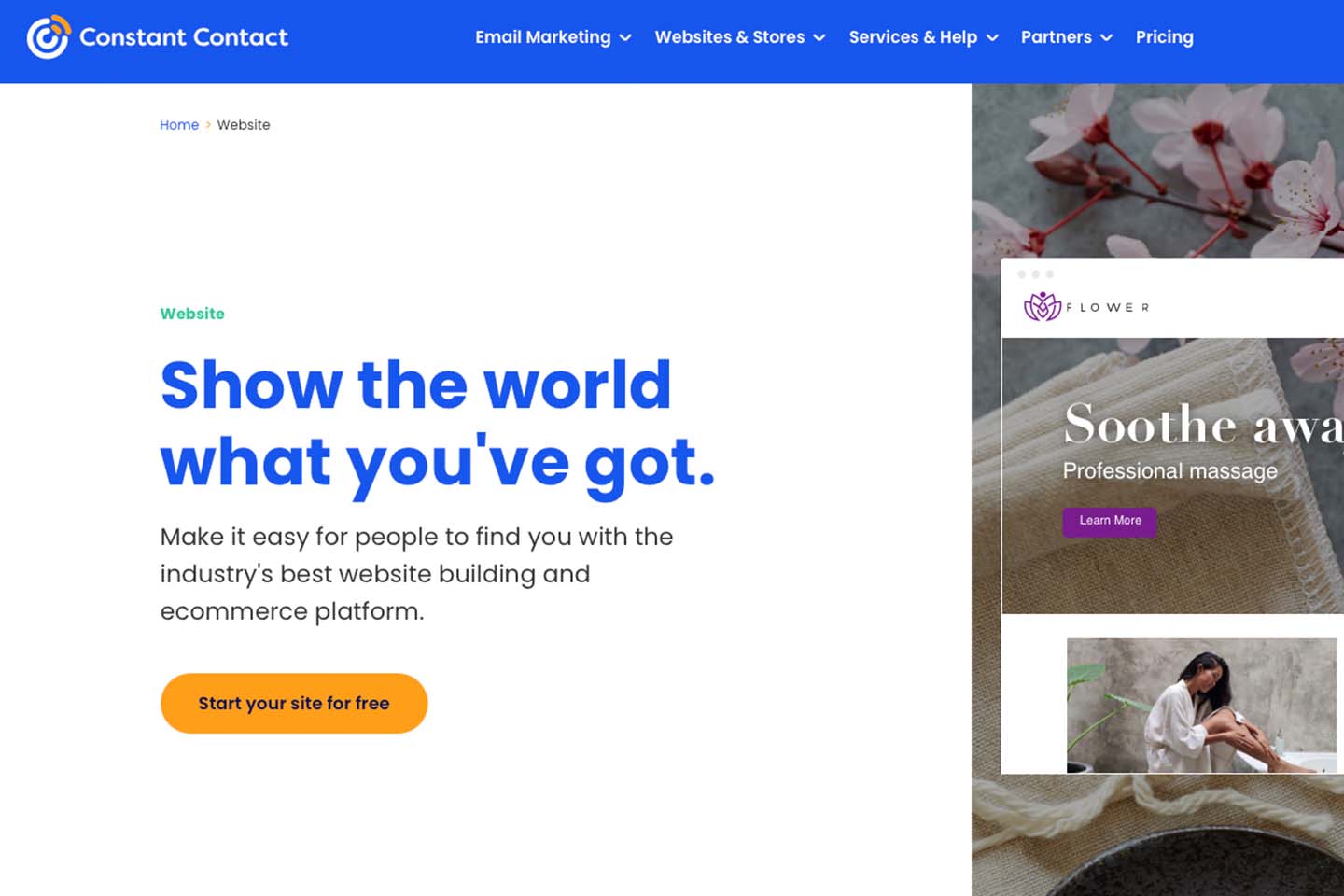 Pros:
Cons:tant Contact utilizes an AI tool to help you build and customize your website. It is easy to use and comes with many designs and photos. They also offer various functions like analytics & lead gathering forms that help you grow your business. Cons:tant Contact is fully hosted. They also offer 24/7 support in case you have any troubles with building your site. Furthermore, like Domain.com, all sites built through Cons:tant Contact will look great on any device. Cons:tant Contact is FREE if you are looking to build a website or eCommerce site.
Cons:
Cannot install extensions that are not developed by Cons:tant Contact.
Pricing:
Free for websites, blogs, & eCommerce; however, does not come with custom domain name & lacks some features. Starter plan - $10/month. Business - $20/month.
---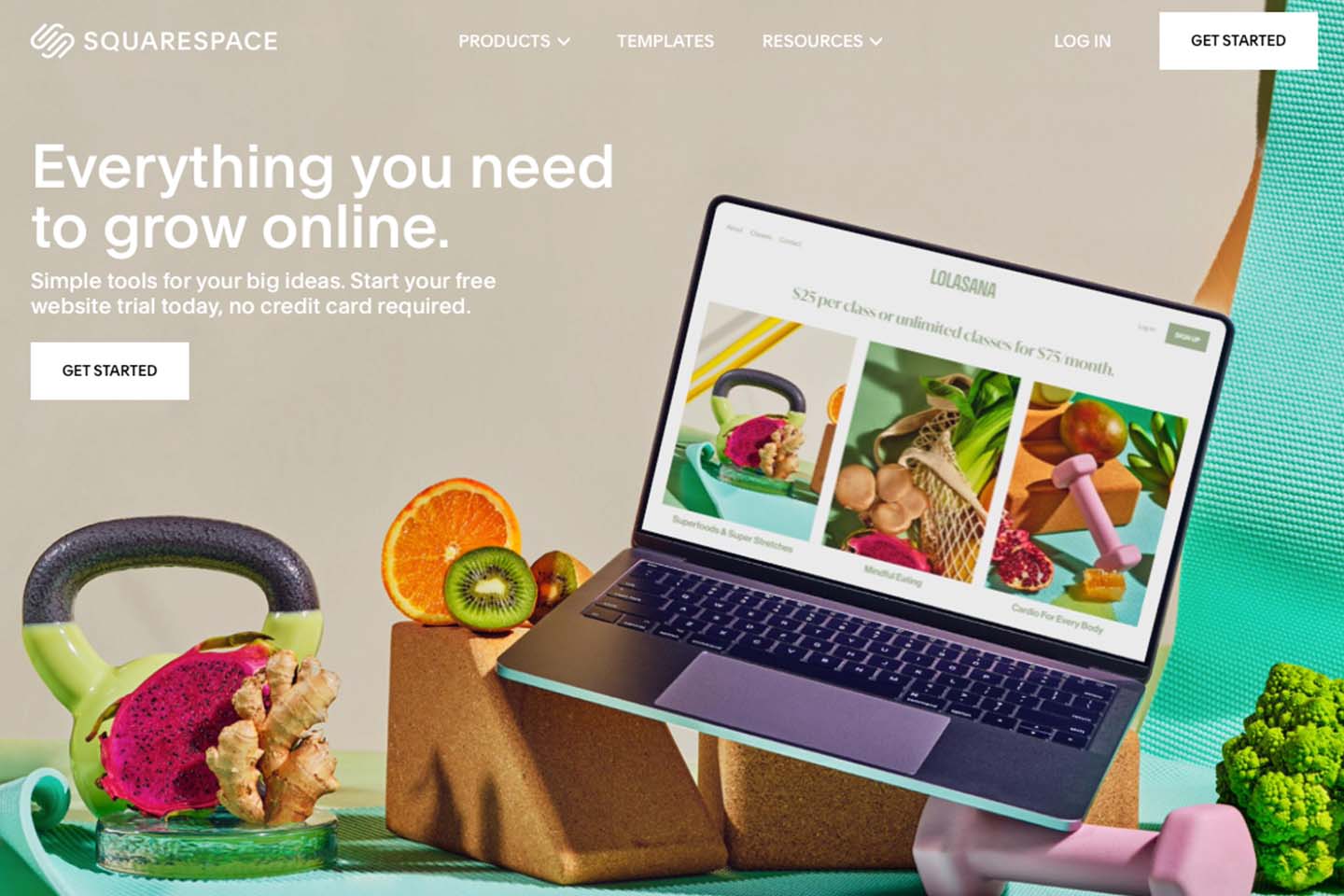 Pros:
Squarespace is incredibly easy to use. It comes with many designs that you can completely customize. You are even able to stack multiple designs together. Editing designs is simple, as you can just click wherever and make edits. Squarespace is fully hosted. It also offers an eCommerce option.
Cons:
You can only use Stripe, Apple Pay, and Paypal on your eCommerce site & it is not easy to integrate Squarespace with other platforms.
Pricing:
Websites start at $12/month & $18/month. eCommerce starts at $26/month & $40/month.
---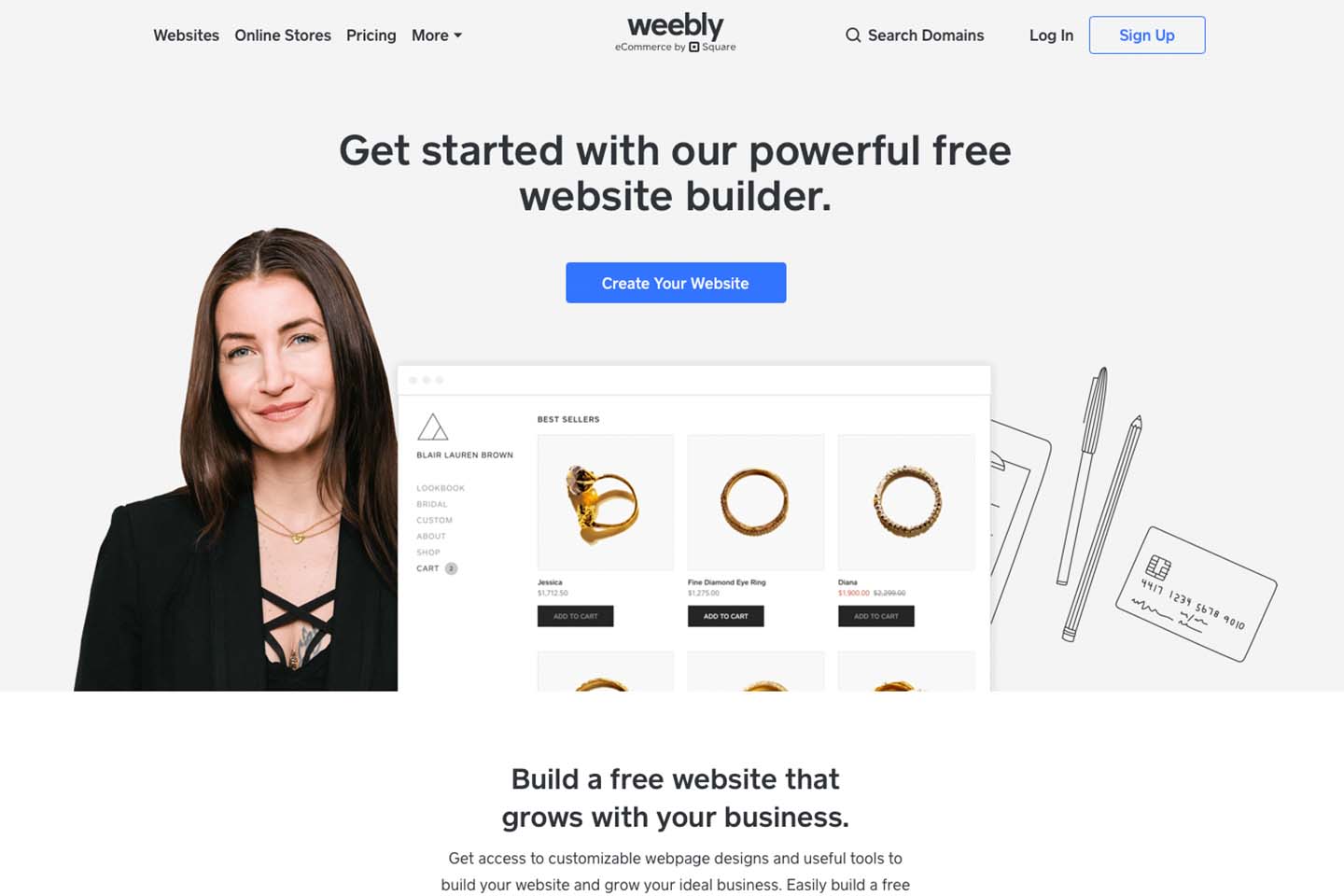 Pros:
Weebly is an incredibly easy to use website builder that is fully hosted. This means that you do not have to do any of the software or technical management for your site. There are tons of themes that are easy to customize and edit. There are also built in functions like contact forms, so you do not have to worry about building those yourself.
Cons:
Because Weebly is fully hosted, you will not be able to develop any functions that Weebly does not already offer. Weebly has an eCommerce option, but unless you get the business plan, you will have to pay a 3% transaction fee on all the goods you sell.
Pricing:
Basic – Free. Paid starting at $8/month. Pro - $12/month. Business - $25/month
---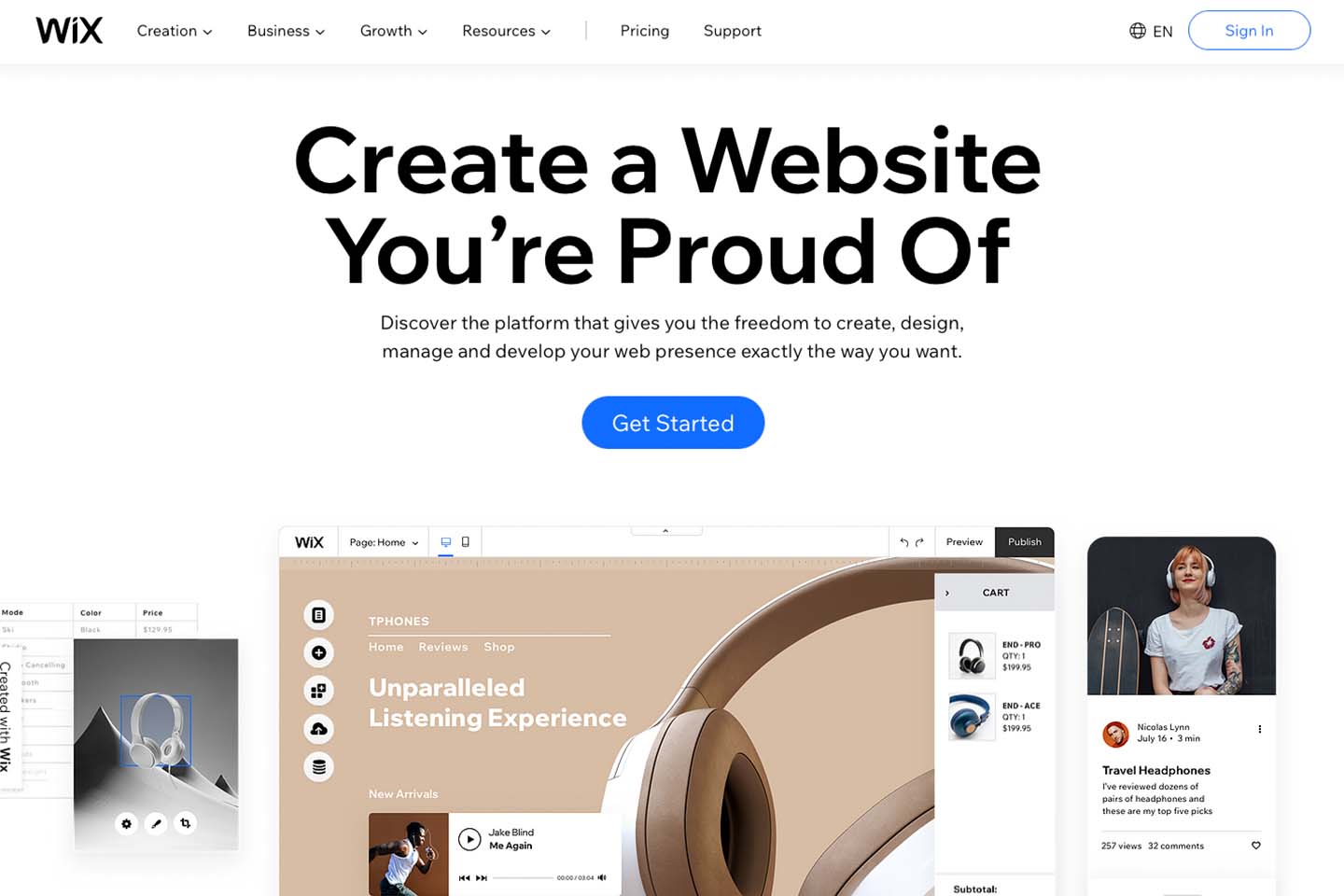 Pros:
Wix is another fully hosted website. There are tons of templates to choose from & customization is easy. There are also a large variety of apps that can be installed on your website to increase functionality. There is a free plan that you can use, but it does come with a domain name, so in order to have a domain name you will have to upgrade your plan. There is SSL with all plans that can be turned on.
Cons:
The more basic plans will have Wix branded ads on your site. It is hard to move your site from Wix if you decide to do so.
Pricing:
There is a free plan with limited functions. Connect Domain (only connects a domain name, you still need to buy the domain name)- $9.16/month. Combo (comes with domain name) - $14.95/month. eCommerce - $26.25/month
---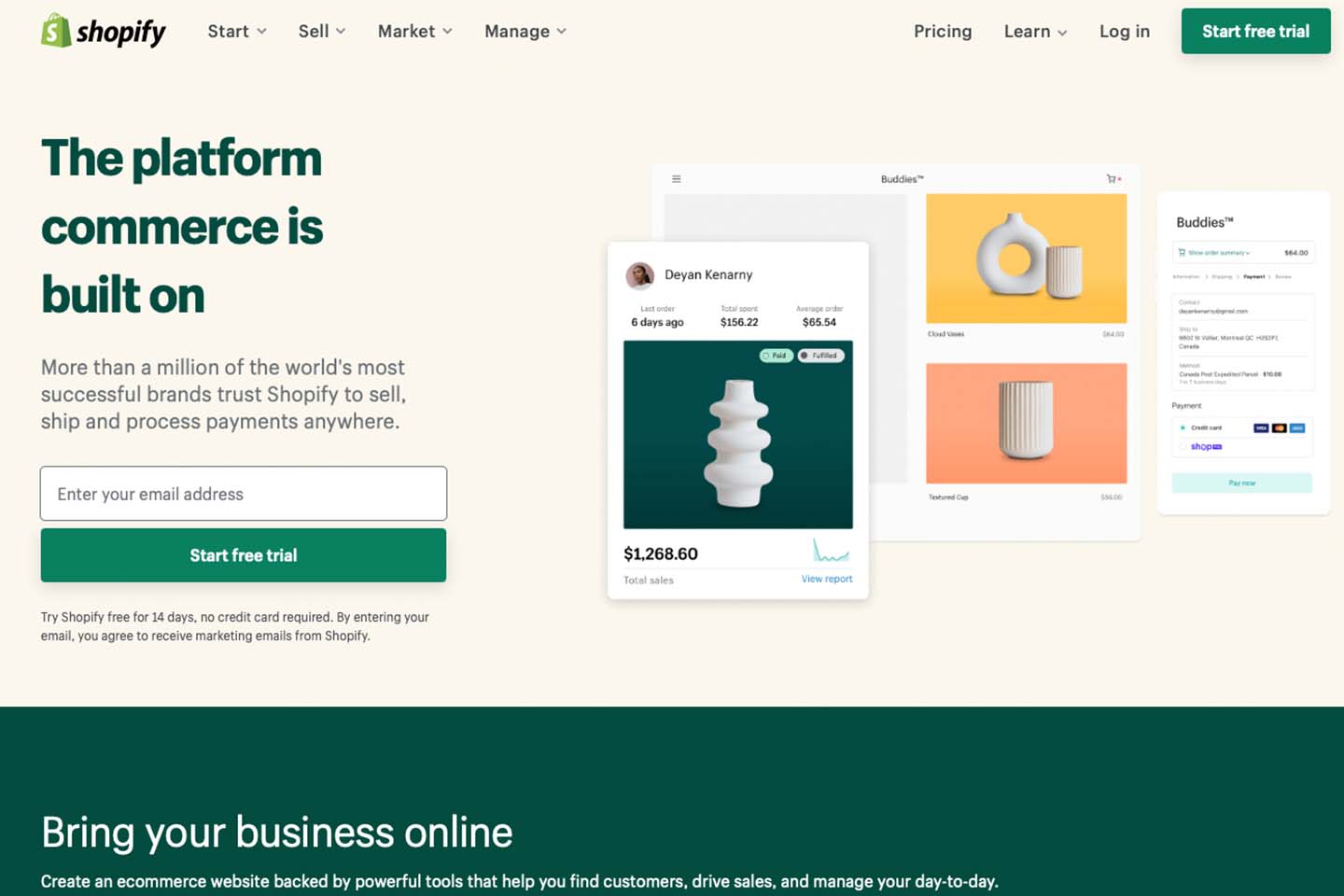 Pros:
Shopify is one of the most popular eCommerce platforms in the world with over half a million businesses using its platform and over 1 million users. Like BigCommerce, Shopify also handles all the technical management of your website. Shopify comes with a payment option of Shopify Payments, but other payment gateways can also be used with a transaction fee. Shopify also comes with a variety of tools that help you optimize conversion rates and maximize profits. There is an in-store option in which you can use Shopify tools to manage your brick-&-mortar store. Designing your Shopify website is easy and requires no technical skills. Shopify can also be integrated with WordPress.
Cons:
Like BigCommerce, Shopify is pretty expensive in comparison to other builders.
Pricing:
Shopify Basic - $29/month. Shopify - $79/month. Advanced Shopify - $299/month. Shopify Lite (add a buy button to any site)- $9/month.
---
Pros:
WooCommerce is another open source platform like WordPress.org meaning that you can truly customize your WooCommerce site however you would like. It comes with pre-existing templates that you can use as well. WooCommerce comes with functions that maximize SEO, so that your site will always come out on top in search engine searches.
Cons:
There is not a lot of support for WooCommerce in case you are struggling with development.
Pricing:
Pricing: for WooCommerce varies. The plugin is free to download, but you need to buy a domain name, hosting, any extensions & paid themes, & a SSL certificate.
---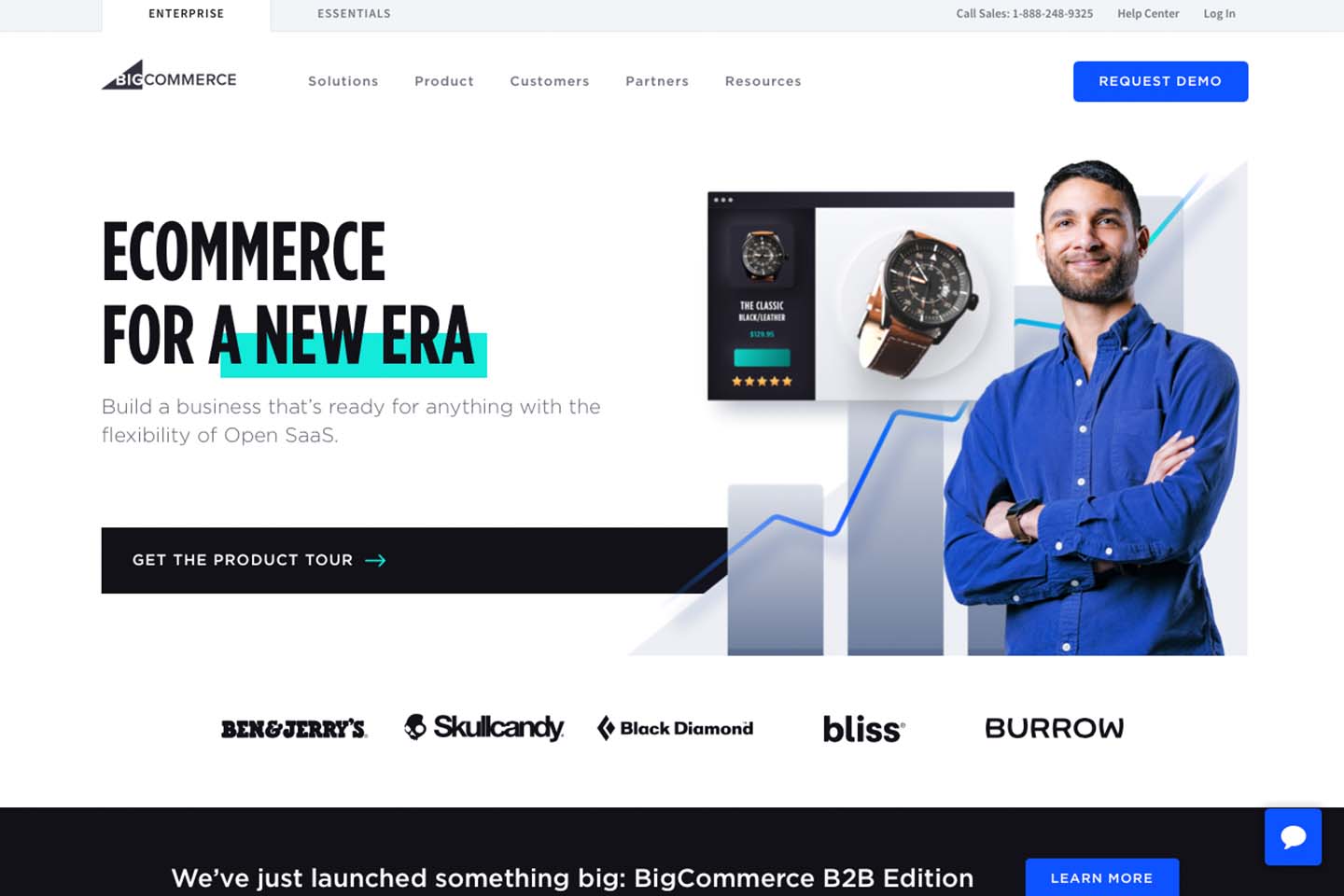 Pros:
BigCommerce is the best platform to use for eCommerce purposes. The company does all the technical work of managing your website for you, so you can focus your efforts on maximizing your profits. It also comes with plenty of features to optimize conversion rate & shows you your metrics, so you know what areas to focus on for growth. BigCommerce is unique from other eCommerce sites in that it is integrated with WordPress, so you get the best of both worlds. Furthermore, BigCommerce allows you to use all the main payment gateways without a transaction fee. Building is easy with pre-made templates and a drag & drop option.
Cons:
BigCommerce is pretty expensive, but they have a 15-day free trial for all plans.
Pricing:
Basic - $29.95/month. Plus - $79.95/month. Pro - $249.95/month.
---
We hope that this has provided you with some direction and insight on which website builder is best for you!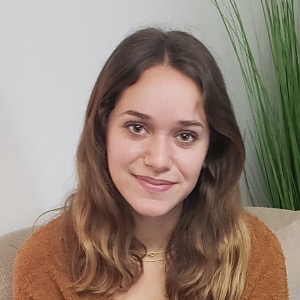 Insight by Mali Gorovoy
Account Manager
Mali is a skilled Account Manager who excels at digital marketing. She loves to share her insights with LaPraim clients, and will be your main point of contact throughout your transformation.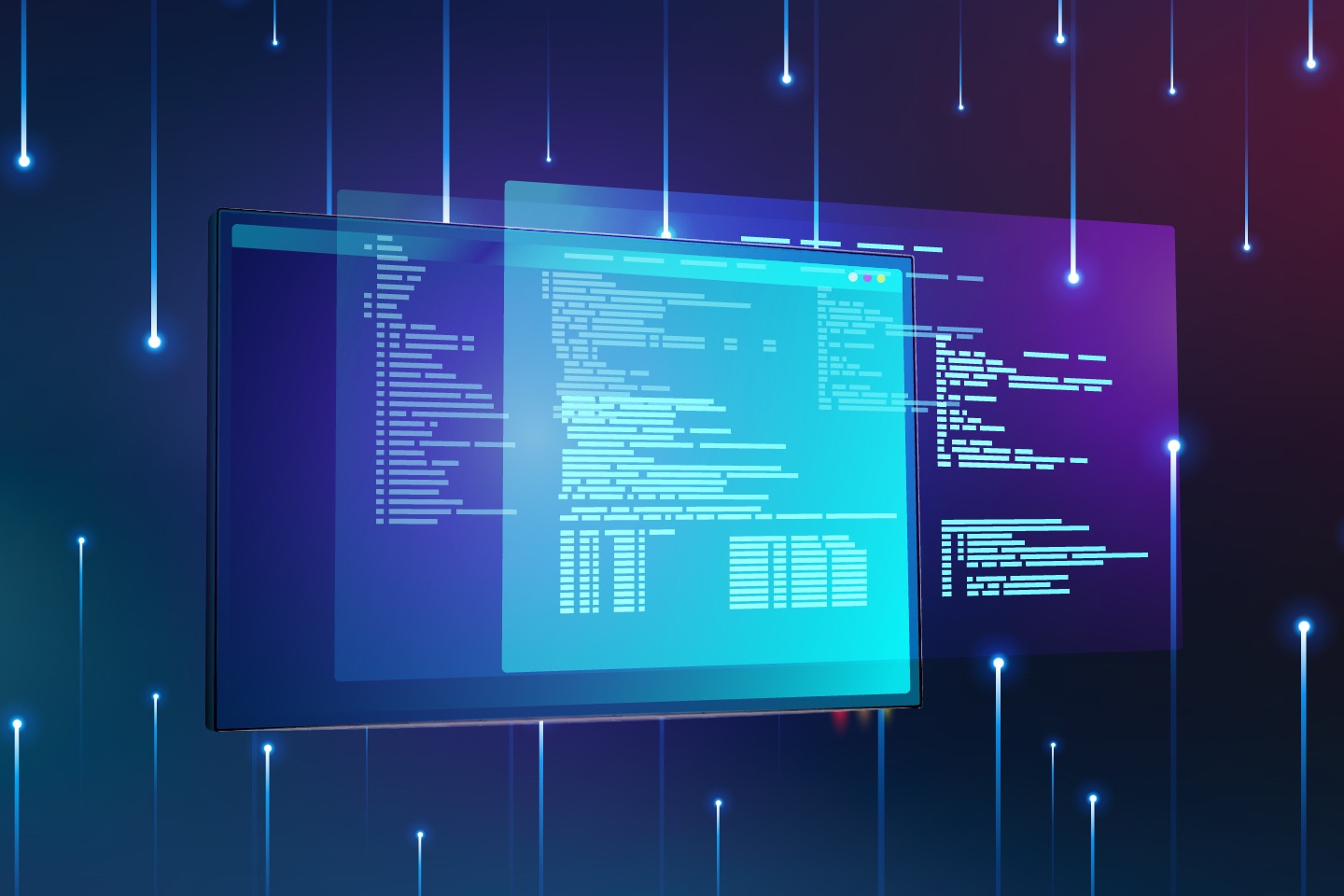 Top Static & Dynamic Website Frameworks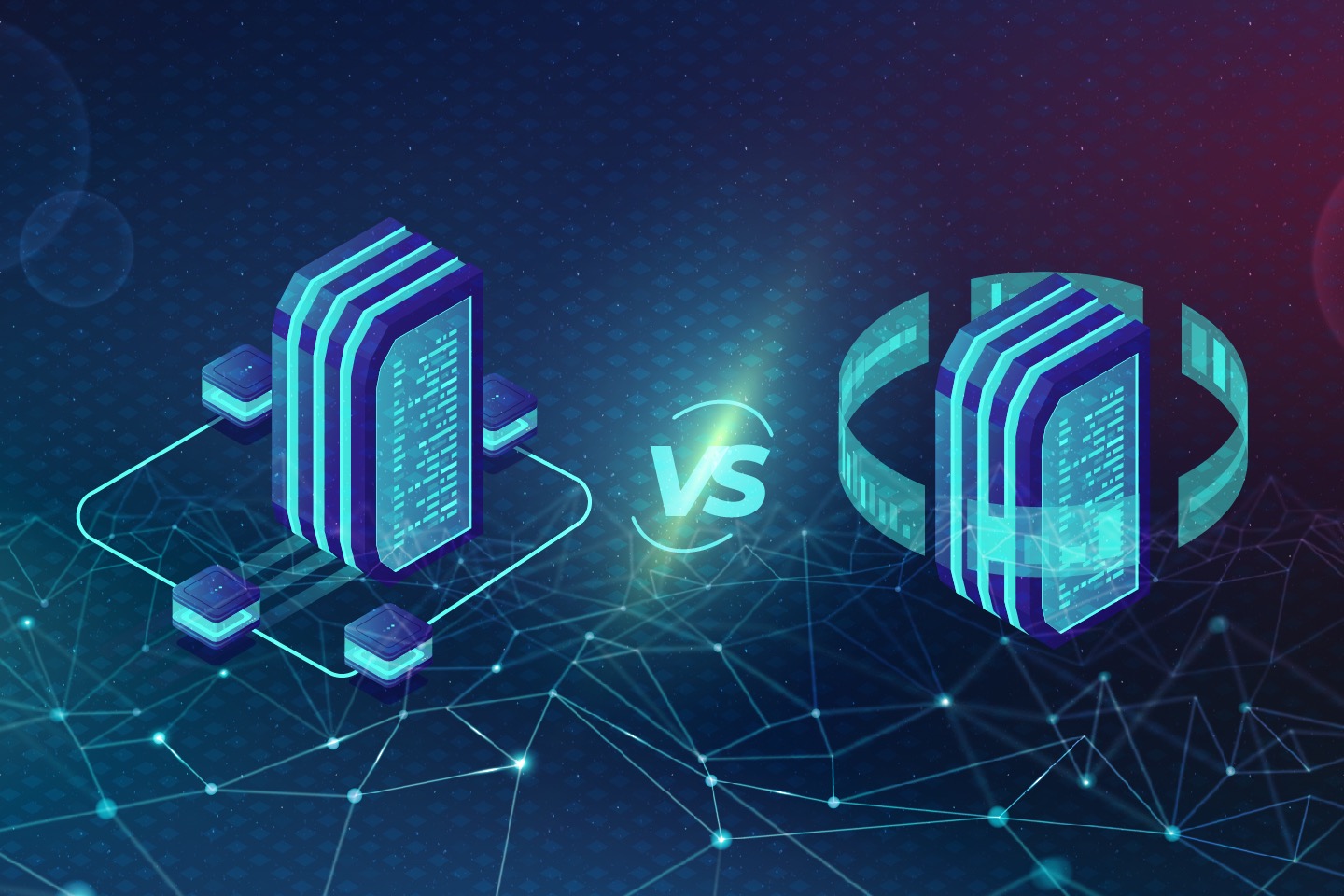 Shared vs. Managed Hosting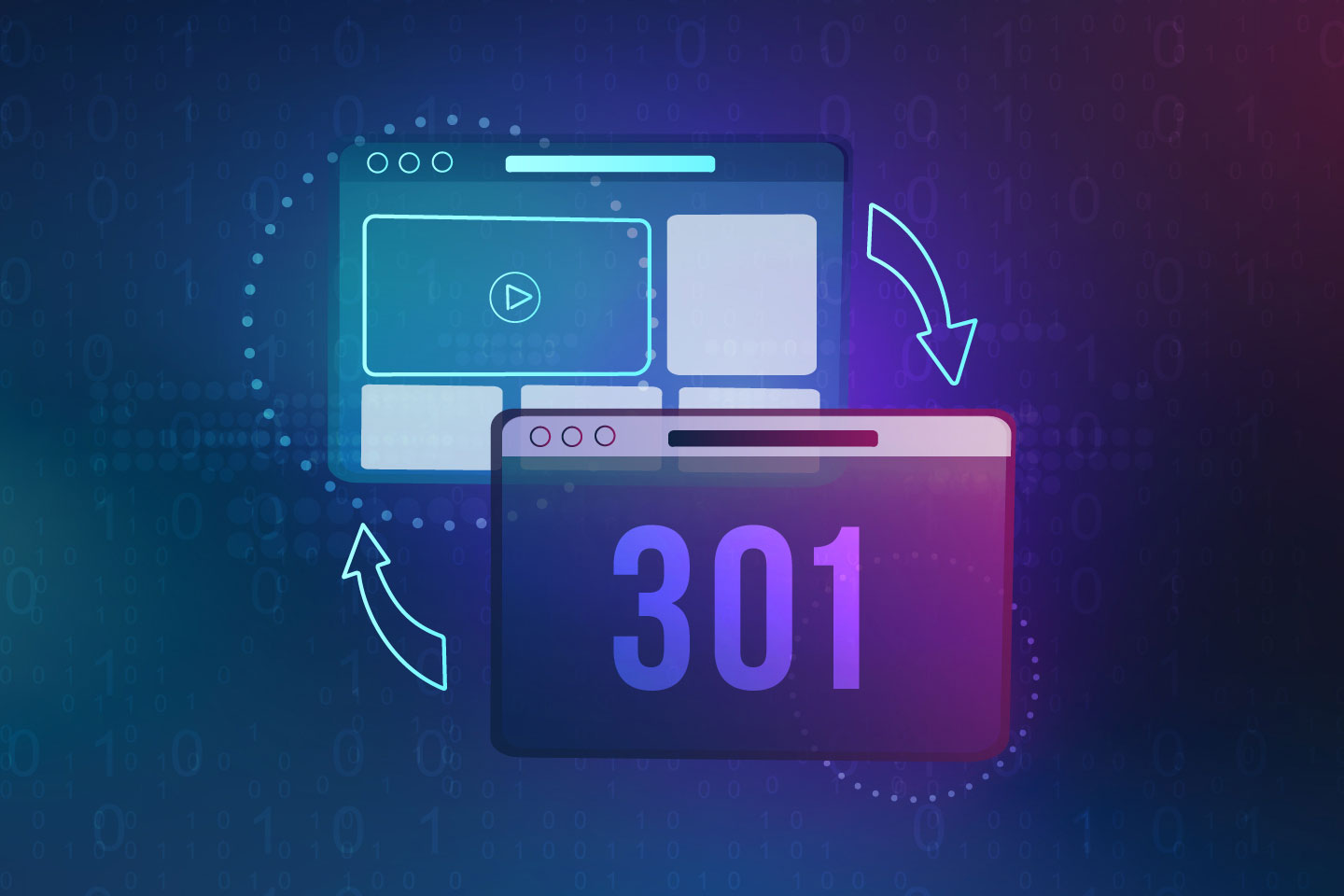 Connect in 3 simple steps
Let's connect.
We want to hear from you and learn how we can make technology work for your organization.